Special Performance - Friday January 6th, 10:00 PM 
Maximum AniSong Night
Visit Entertainment Lounge room 104C on Friday January 6th at 10:00 PM for an Arcane Maid Cafe special event, consisting of J-pop star Maid Mari (@paprikamari), DJ Maid Nagi (@nagi.cos), and special DJ guest Dumpling (@dumpling.wav) for a full night of Live Performances, Giveaways, and massive entertainment.
Special appearances by Maid Kuro and Maid Nabi
Arcane Maid Cafe
The maid café is a bistro-style café that is opened to all attendees! You do not need to reserve or purchase tickets in advance.
All guests are welcomed on a first-come first-serve basis. You may have to wait in line for a table spot. All seats and table spaces are reserved for maid café guests only. You must meet the minimum purchase for a table spot. You can purchase any food or drink item from the café from our fast casual take-out window.
Location: Exhibit Hall #124
Maid Cafe Hours:
Thursday: 1:00 PM – 7:00 PM
Friday: 12:00 PM – 7:00 PM
Saturday: 12:00 PM – 7:00 PM
Sunday: 11:00 AM – 5:00 PM
Maids at Arcane Maid Cafe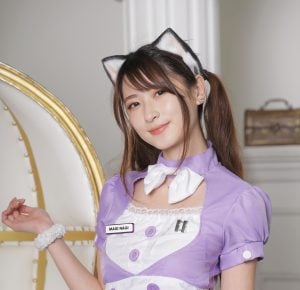 Virtual Tour of Arcane Maid Cafe at Ala 18
Maid Cafe Entertainment Stage
Contact us for performance opportunities!
Apparel and Merchandise
Find our latest exclusive merchandise such as neko ears, stickers, apparel, and more!
Enter the Maid Cafe
Be greeted by an Arcane Maid for table srvice or order to-go from our restaurant/retail hybrid booth!
Maid Cafe Backdrop
Take a photo with a maid with our booth backdrops!
Volunteer For the Maid Cafe for 2023!
Volunteering is fun and comes with convention benefits!
If you are interested in any of these positions, please apply!
Volunteering comes with the following perks:
Complementary day-badge for each day you volunteer!
Full pass badge if you volunteer 2 days or more!
Provided meals and staff break room
4-day volunteers receive a room pass!
Applying does not guarantee that you will become a volunteer for the maid cafe. Applications are reviewed on a first-come first-serve basis. Please do not apply more than one time. Volunteer positions are extremely limited and the application form will be closed once the volunteer roster is complete.